VOLCANIC & VEGAN WINES.

Coupage
TEMPRANILLO GRACIANO MERLOT CABERNET FRANC
Coupage is a wine that ensambles Tempranillo, Graciano, Merlot and Cabernet Franc. Reflection of our vineyard, it is a volcanic wines with 9 months in French and American oak.

Phoenix is 100% Tempranillo wine coming from our oldest vines more than 50 years old. Volcanic with resting 15 months in new French oaks.
Coupage
TEMPRANILLO
GRACIANO
MERLOT
CABERNET FRANC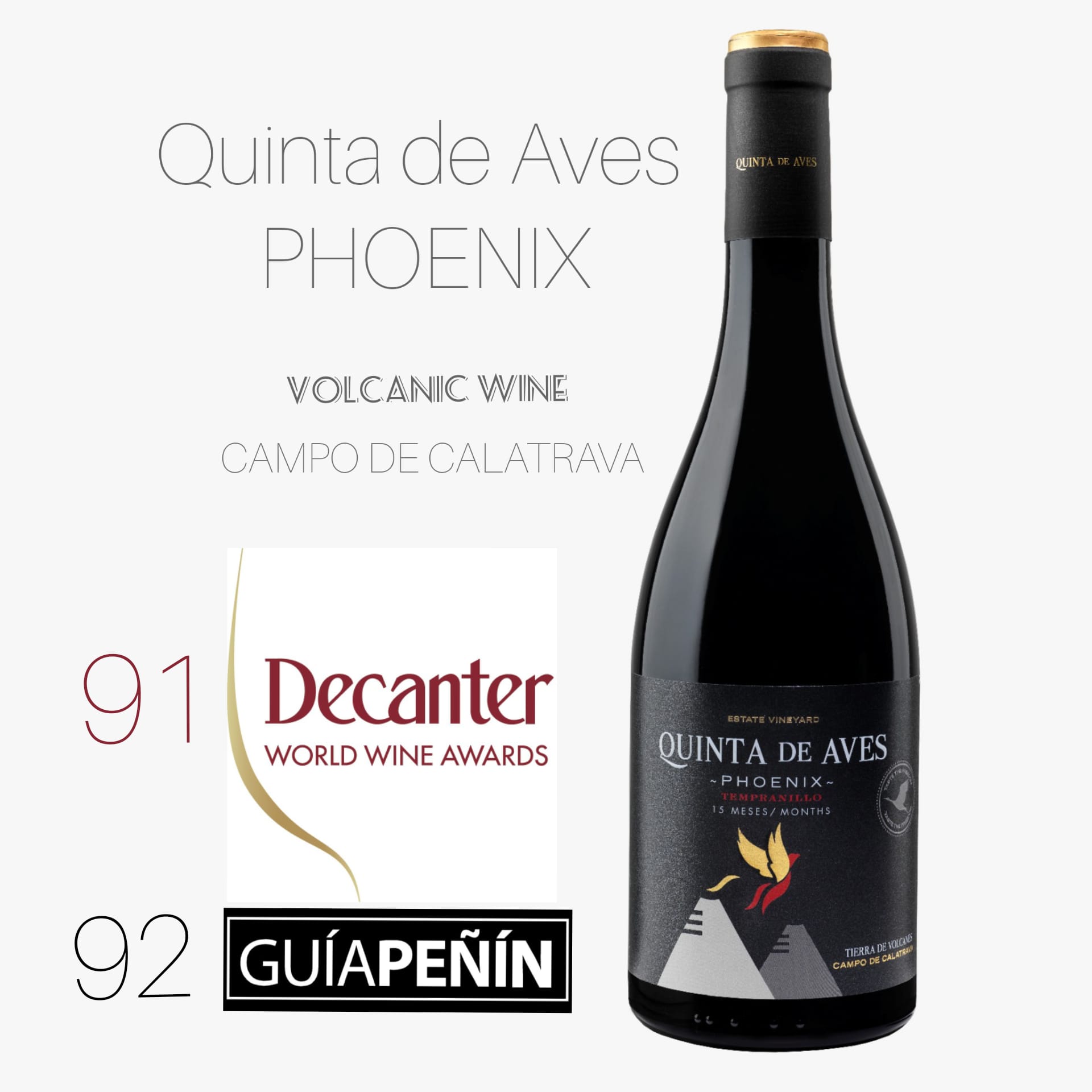 Quinta de Aves Phoenix 2018
Quinta de Aves PHOENIX is our flagship. 91 Decanter and 92 Peñín, comes from the oldest vines in out Estate grown in goblet-pruned format. It represents the union of our environment marked by birds, with the volcanic soils of Campo de Calatrava. PHOENIX is a bird that rises from its ashes like our wine each harvest.
Quinta de Aves Tempranillo 2020
Quinta de Aves Tempranillo, its plantation comes from olf vines that give birth our Pheonix. For second consecutive year, Peñin Guide gives 90 points and 5 stars of quality-price relation. 
Quinta de Aves Syrah 2019
Quinta de Aves Syrah is a volcanic wine from Campo de Calatrava. It has obtained Gold Medal at Concours Mondial de Bruxelles, 90 Peñín points with 5 starts of quality-price relations and more than 90 points in several national wine guides. 
Vivir el Vino
Vivir el Vino natgional guide gives more than 90 points to 4 of our wines. Highlighting Quinta de Aves Phoenix with 94 points. It is our most special volcanic wine, coming from oldest vines and resting 15 months in new French oaks. 
No Results Found
The page you requested could not be found. Try refining your search, or use the navigation above to locate the post.
Please drink with responsibility. We remind you that sale to underage people is forbidden.